Original article
Open Access
Geospatial binding for transdisciplinary research in crop science: the GRASPgfs initiative
Open Geospatial Data, Software and Standards
2017
2:20
Received: 27 January 2017
Accepted: 5 July 2017
Published: 14 August 2017
Abstract
The paper retraces the GRASPgfs endeavor (Geospatial Resource for Agricultural Species and Pests with integrated workflow modelling to support Global Food Security) between multiple disciplines around a common objective of facilitating research and model simulations for sustainable food security. Within this endeavor, the geospatial media has been the enabler for multidisciplinary research in crop modelling. Geospatial genetic-trait variations and associations with environmental forecasting were the main focus of the GRASPgfs. Designing the platform achieving this objective generated a transdisciplinary vision of modelling and forecasting for sustainable agriculture. Based on interoperability principles, seamless access as well as sharing for data, metadata and processing models, the design is described in this paper. This geospatial binding facilitates and supports new types of hypotheses and analysis as illustrated in the paper with a landscape genetic case study (bambara groundnut) and a crop disease modelling (eyespot disease). The approach and the eGRASP platform are generic enough to accommodate further complexity into the integrated modelling that this geospatial binding enables.
Keywords
Agriculture modelsCrop modellingScientific workflowGeospatial informationGenetic-traitInteroperabilityGISOGCWeb services
Introduction
A FAO report of the Commission on Genetic Resources for Food and Agriculture (CGRFA 13/11) clearly identified "spatial analysis to identify varieties likely to have climate-adapted traits as an aid to plant breeding" as one of the eight priorities in multidisciplinary research. In addition, Earth Observation data (EO) has proven the capacity to provide measurements of key environmental conditions to predict the production of the healthy crops and potential disease threats.
Such agricultural modelling and simulations need access to elaborated geolocated genetic-trait information as well as complementary data sources coming from geospatial data providers and geospatial data hubs, e.g. soil moisture data, climate data. The BBSRC funded project GRASPgfs "Geospatial Resource for Agricultural Species, pests and Pathogens with workflow integrated modelling to support Global Food Security" initiated the design and prototype of an e-infrastructure linking together (i) a geo-germplasm database, (ii) a dynamic metadata catalog and (iii) a workflow modelling tool to enable optimal usage of the geo-genetic-trait information. This is desired in various types of simulations for crop trait variation, forecasts under climate forcing scenarios and crop disease epidemics.
This initiative and the prototype of the e-infrastructure based on open standards is described.
Background
Access to a wide range of information, from rigorous scientific results to 'hear-say' farmers' knowledge is becoming critical to be able to target efforts in food security planning at community or at country levels. Also, designing scientific and intervention strategies within changing climates and markets is a fundamental challenge. The Plant Genetic Resources for Food and Agriculture part of the FAO's Global Plan of Action for plant genetic resources has been established as a world-wide dynamic mechanism using WIEWS1 to foster information exchange among members (more than 150 countries) and as an instrument for periodic assessment.2 The enhanced use of this type of resource and other germplasm banks with additional contextual information is nonetheless still highly desired. In a recent FAO report3 from the Commission on Genetic Resources for Food and Agriculture clearly identified "spatial analysis to identify varieties likely to have climate-adapted traits as an aid to plant breeding" as one of the eight priorities in multidisciplinary research.
Technologies for the collection and dissemination of geolocated information, using broad-band mobile communications, sensor platforms, spatial search and pervasive computing, are fundamentally changing the access to and use of location-based data in agriculture [20]. However, the necessary cross-disciplinary research needed to transform raw data and information into useful intelligence and knowledge to improve the planet's environmental, economic and societal well-being is still constrained by disciplinary and organizational silos and legacy concepts. Even if this was already acknowledged in the 1940's, the geo-location of genetic data in ecology and agriculture for further spatial analysis: spatial genetic, is still a recent concept [17]. Within the "from farm to fork" chain, various heterogeneous data including genetic-trait information are to be considered as part of the computational modelling for prevision and forecast; most of them have a geo-location or spatial component or would be required to have one to be used from a plethora of model applications of various complexities. These are either biophysical, agro-economically based and more mechanistic or deterministic orientated [6, 13, 14, 19, 30, 36] or more stochastic orientated [2, 5, 12, 23, 42, 48, 52], more rule-based including agent-based orientated [32, 45, 49] but all contain a combination of those types. Therefore, a cross-disciplinary expertise driven from geospatial sciences methodologies appeared to be needed to develop an integrating framework for relevant data sources, in order to allow knowledge gathering across all subjects relevant to Food Security.
The objective of the geospatial integration e-infrastructure framework that GRASPgfs initiative has proposed to establish is to facilitate the use and reuse of trait data in crop, animal and microbial species of agricultural importance. The initiative relies on the position that the geospatial realm, as an entry point and end-point of this e-infrastructure, enables researchers but also stakeholders and policy makers to ground their development strategies but also to elaborate more easily alternatives [3, 6, 26, 30, 31, 36, 40]. Not only this binding is conceptual and interdisciplinary but also it has conrete technical impacts on the e-infrastructure utilizing Open Geosptial Consortium (OGC) standards. Linked with dynamic climate records within the framework capabilities on scientific workflow modelling, this would allow addressing food security issues for sustainable agriculture by enabling predictive modelling with identification and characterization of new sources of germplasm.
The paper describes the initial overall architecture design and first results on establishing the eGRASP platform and e-infrastructure. Section 2 concentrates on expressing the method in defining the approach and initial challenges for long-term objectives; section 3 highlights the bases in designing the eGRASP solution and architecture along with illustrative examples of initial results on using such approach.
Requirements
Targeting global food security issues and sustainable agriculture, related to crop selection and climate change needs the development of models integrating a range of disciplines such as genetic, agro-ecological modelling and land-climate forecasts. Geospatial science can be the mediating component of an e-infrastructure enabling data and processing to be retrieved, integrated and made available within a geospatial scientific workflow modelling interface with uncertainty management.
The main objective of the geospatial integration framework wihin GRASPgfs was to facilitate the use and reuse of known (and new) sources of crop traits together with dynamic climate records within the framework capabilities of workflow modelling addressing food security issues concerning sustainable agriculture. Describing agricultural species germplasm for genotype characteristics with the data ordered by geospatial origin, the higher-level descriptor being "agricultural trait" has been put forward as enabling new way of expressing and analysing trait variations [34, 41].
Highlighting model complexity for integrated assessments required for global food security, a recent review of crop models under climate forcing pointed out the need of generic solution enabling or facilitating the combination of various models together [
14
]. Figure
1
encapsulates the challenges of facilitating the elaboration of such analysis via an integrated workflow modelling. This workflow grasping the "big picture" and illustrating the cross-disciplinary expertise required is conceptual and each data entry or processing task may in fact illustrate the use of complex data structures and sub-workflows themselves. The framework to develop would need to facilitate the integration of the driving key conceptual aspects of this model. Following this conceptual approach and being able to re-use data and models available to instantiate such model would enable new perspectives on crop genetic diversity by (i) identifying new sources of trait variation, (ii) geolocating suitable germplasm, (iii) planning breeding objectives with the greatest likely impact from the added information of local market and farmer's knowledge [
8
,
34
], and (iv) evaluating the effects of climate change scenario.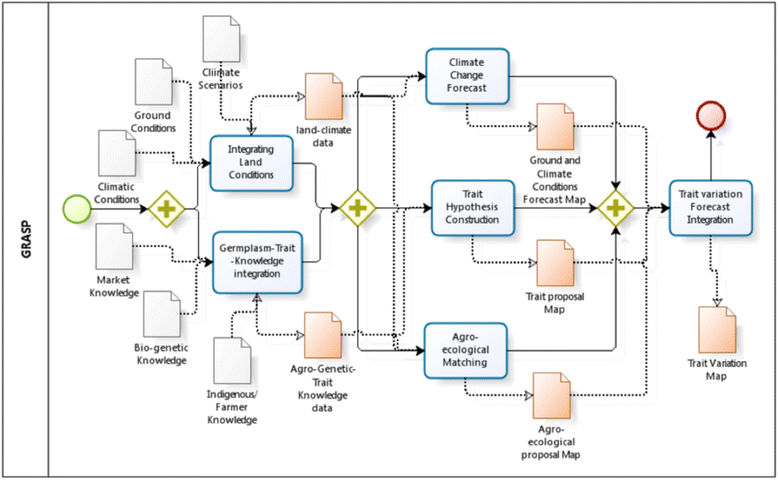 Integrating heterogeneous datasets coming from various sources within a generic platform means being able to access and understand the semantics of these data and processes in order to allow the platform to present the data, analyse them, or instantiate a workflow model using them [9, 25]. Easily integrating various data and processing resources has considerable advantages in terms of rapid development of models and their execution but gives less control on the quality of the results as various uncertainties coexisting in the components of the workflow model. Therefore, bounding with uncertainty assessment the outcomes of the models should also be the aim of the eGRASP platform to allow better decision-making. Specific capacities are also needed to integrate information such as genetic-trait encoding and ontology binding with disparate germplasm data sources. Pests, pathogens and weeds are encompassed at the crop information level and in the process themselves as they are often impacting from interacting with the environmental conditions.
Designing, developping and implementing
The GRASPgfs has therefore focused on designing and implementing a flexible, interoperable platform based on open source software4 compliant with GEOSS5 using OGC6 standards and services for data and processing capabilities. From delivering a flexible, integrative and sharing eGRASP web platform based on openess, the objectives of enabling researchers in crop modelling, agro-ecological modelling either as developer of new models or evaluating agriculture strategies (agro-ecomic modelling), to seamlessly re-use existing models and specific data such genetic-trait information will be achieved. For efficiency and controls on the quality in terms of uncertainty and variability of the outcomes, the design of the platform allowed functionalities to easily browse and visualise metadata as well as has to geo-computationally evaluate workflows output uncertainties [15, 25, 28]. Spatial analysis of the spatial variations either of the predicted outcomes and their uncertainties were included in the design to be part of the platform as well. That way the modelling part and of the decision making part are interlinked, allowing more flexibility and adaptability. The approach and the concept of the eGRASP platform has been the result of multidisciplinary exchanges leading to a real transdisciplinary vision [4, 21, 38] that is highlighted in the next section.
Future research
Interdisciplinary projects often reduce to cross-disciplinary spill over; however over a shared building up initiative to advance on the GRASPgfs concept, a real transdisciplinary collaboration has been initiated and experienced. Not only the co-design of the eGRASP platform with its embryo of capacities has enabled to envisage new potential research ideas in each of our disciplines, it also concretised global food security strategies and analyses. The recent development of the GRASPgfs framework along with the design of the eGRASP was limited as due to the budget and not all the disciplines firstly envisaged could be adequately integrated. Whilst in Fig. 1, the agro-ecologial interaction would derives mostly from re-using models in landscape genetic and landscape ecology, as well as the agro-economic would benefit from models mentioned in the background section, their data modelling integration represented on the left hand side of the model has not been yet investigated. For a prototype design this was not crucial as long as we could still represent its future influence when composing the models.
If some of the services in Fig. 4 are in place the actual data and processes content is rather small as this was a proof of concept exercise. Nonetheless PhD students and recents projects are providing valuable examples also enhancing the capacity of this platform. The interoperability principle adopted by the eGRASP, including its open source and open standard focus, is the chance for maximum dissemination of this capacity as a set of cross-platform clients and services. Geospatial risk assessments in agriculture in relation to species and pests, can be greatly facilitated from sharing data and processes which can then reused by the eGRASP.
Abbreviations
APSIM:

Agricultural Production Systems Simulator
BPMN:

Business Process Modelling Notation
CFF:

Crop For the Future
CSW:

Catalog Service Web
DDM:

Disease Development Model
DSM:

Disease Severity Model
eGRASP :

e-infrastructure for GRASP
FAO:

Food and Agriculture Organisation
GEOSS:

Group on Earth Observation System of Systems
GIS:

Geographical Information Science
GRASP:

Geospatial Resource for Agricultural Species, pests and Pathogens
GRASPgfs:

GRASP with integrated workflow modelling to support global food security
GS13:

Growth Stage 13
HRM:

Harvest Reduction Model
IPM:

Inoculation Potential Model
JBPM:

JBoss Business Process Modelling suite (Java)
OGC:

Open Geospatial Consortium
OMG:

Object Modelling Group
OSGeo:

Open Source Geo
SSR:

Simple sequence repeats
UML:

Unifed modelling language
WPS:

Web processing service
XML:

eXtended Markup Language
Declarations
Acknowledgements
All the co-authors are very grateful to the support and scientific interaction we had along this initiative with a number of colleagues: Jeremy Morley now chief geospatial scientist at Ordnance Survey, UK, Sue Walker emeritus professor in agro-meteorology at the university of the Free State, South Africa, Charlie Hodgman, honorary professor at the university of Nottingham, Tim Brailsford, associate professor in computing science at the university of Nottingham., Thuy Vu, associate professor in geography, at the university of Nottingham, Malaysian campus and Razlin Azman,now working with Pr Graham King.
Most of this work has been possible thanks to the funding from the British Biological Sciences Research Council (BBSRC) grant n° BB/K004034/1 for the project "Geospatial Resource for Agricultural Species, pests and Pathogens with integrated workflow modelling to support Global Food Security (GRASPgfs): a prototype".
Authors' contributions
DL and SA have been leading scientifically the project. DL finalised the design of the eGRASP and wrote the paper, both based on contributions from all. Particularly, SM, GK AB, RR, RS, AK provided work, expertise and information on the database genetic materials. Illustrative examples were from RS and MA-A whilst MJ and SA-A provided valuable discussions. All authors read and approved the final manuscript.
Competing interests
The authors declare that they have no competing interests.
Publisher's note
Springer Nature remains neutral with regard to jurisdictional claims in published maps and institutional affiliations.
Open AccessThis article is distributed under the terms of the Creative Commons Attribution 4.0 International License (http://creativecommons.org/licenses/by/4.0/), which permits unrestricted use, distribution, and reproduction in any medium, provided you give appropriate credit to the original author(s) and the source, provide a link to the Creative Commons license, and indicate if changes were made.
Authors' Affiliations
(1)
Nottingham Geospatial Institute, University of Nottingham, Nottingham, UK
(2)
Plant and Crop Sciences, University of Nottingham, Nottingham, UK
(3)
Plant Sciences, Southern Cross University, Lismore, Australia
(4)
Faculty of Agricultural Sciences, Sabaragamuwa University, Belihuloya, Sri Lanka
(5)
Crop For the Future (CFF), Semenyih, Malaysia
(6)
Global Open Data for Agriculture and Nutrition (GODAN)